Create a consumer focused marketing video for social and outdoor that shows the unique value of the b8ta testers, the quality of products in the store, and the through line of a unique retail outlet that puts consumers in touch with cutting-edge products and product makers. 
Young and urban consumers who are unfamiliar with the brand and the unique experience. 
· :30 trimdown of :90 marketing video for outdoor
· 5x clips of interviews for social posts. 
· Archive of interview and broll footage to be used for future applications
Below I've pulled a few pieces that stuck out while reviewing the marketing of products you sell and others in the product category. Of course, some of these companies have bigger budgets than we do, but let's take some cues from them. We really want to convey to the consumer that b8ta is a premium brand, a home for premium products, and a truly unique experience. 
Please have a look at the clips below. I love the Google piece for its
fast energy
 and
dynamic movement
, the Molecule piece for its
crisp and organic aesthetic
, and the Apple piece for its
humanity
(I cried). 
Creative Treatments · Overview
Fast energy, dynamic movement, crisp yet organic aesthetic, and humanity—that's our mark. To achieve this, we'll shoot with cinematic lenses on a 4K camera that allows full color editing in post, use a nice soft light on subjects and products, use a motorized camera system for fast and smooth movements of broll, and set it all to impassioned yet authentic interviews, and a fresh/fun piece of music that will drive an excited edit.
You can find some preliminary tracks

here

. (Go to the last :30 of "LOVE"-I actually dig the lyrics and could imagine this as a bit of a brand anthem?)
These are not fixed estimates. We can push and pull as needed. The idea here is to provide fodder from which we can dial in the best creative and budget to realize it. Basic budget assumptions are: 
· Producer/Director will shoot interviews, edit them to music, and then craft a shot list. 
· Locations and talent will be provided without additional cost
· All locations are NY-metro area (NJ included)
· We will shoot on 4k allowing vertical 2k edits without loss.
· We will shoot with high quality lighting and audio
· We anticipate only 1-2 client representatives on set, more may require an assistant and additional monitor
· Producer and client will each retain hard drives with all assets at completion
· Post-Production will include three rounds of reviews, additional reviews will incur additional cost. 
· Music will be licensed for paid media at a company size of ~150. Amount of paid advertising may increase cost. Current estimate is at $5k of paid video promotion.
· All interviews and broll shoots need to be scheduled in contiguous blocks to maximize labor.
· Both budgets include an offsite color grade and sound mix. 
· Social will be edited and exported at 4k horizontal allowing for horizontal and vertical 2k uploads.
· Main video will be delivered as horizontal and vertical.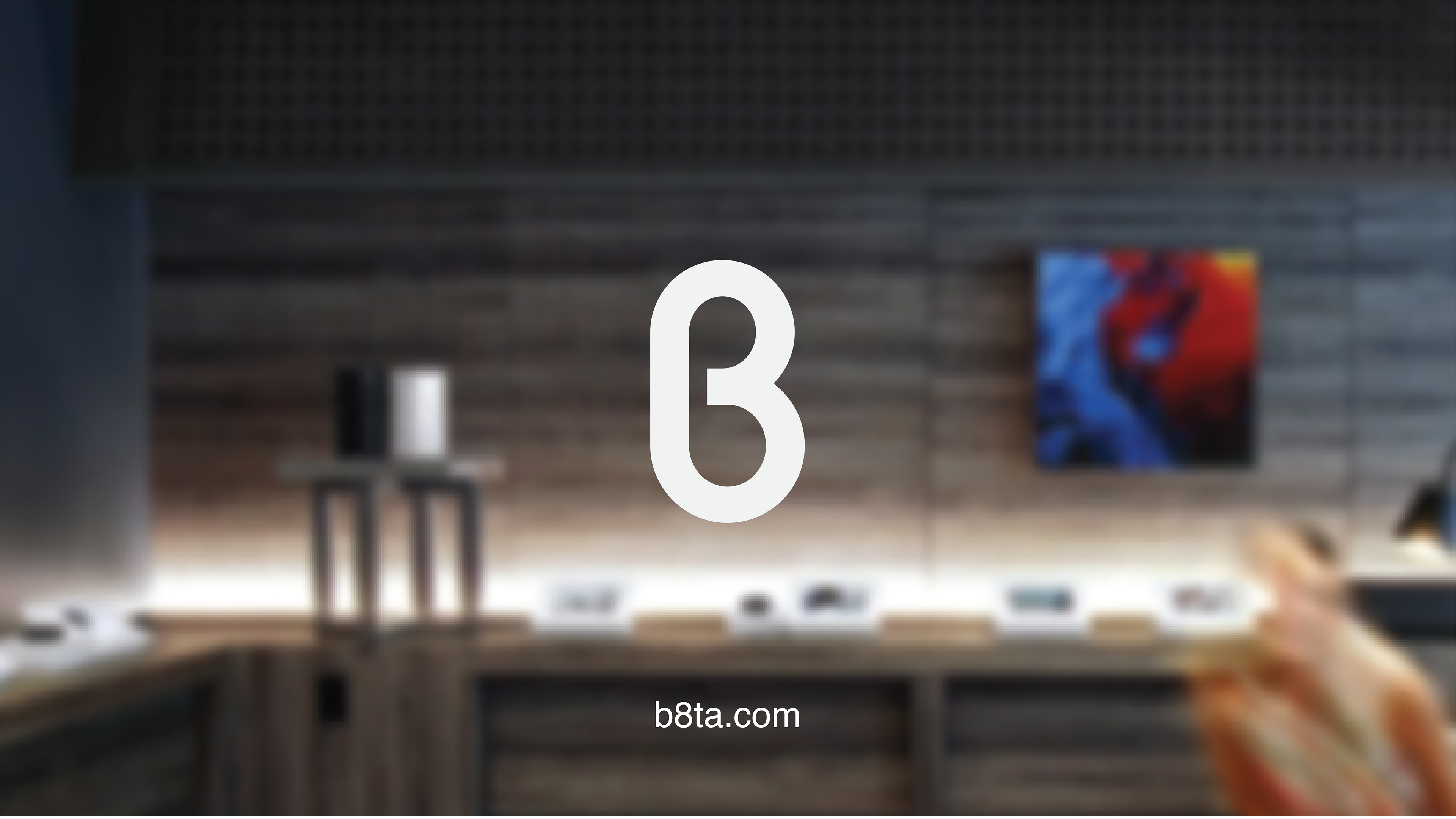 We open with a powerful passion statement about love for tech from a b8ta tester as we see them readying themself for the day. Maybe they are grabbing their Boosted Board and heading out to the street or they are putting on the new Dolby headphones and walking? Perhaps the Flow is on their bag? They tell us about how the uniqueness of their role as beta testers while we see them turn on the lights of a b8ta store. They talk about a product and the connection to the maker. We see the product and in a match cut come to the maker's office in a wide and see the maker at work. We then hear the maker talk about the uniqueness of the concept and the value to the consumer. Coming back to the store we see the product in a customers hand and the b8ta tester with them. Then we pull back to a wide of a bustling store while the b8ta tester or a customers reiterates that this isn't a sales space, it's an experience space for products that make your life move. 
All of this happens with clean and fast motion, and set to a fun upbeat contemporary track that give us an extremely high budget look and the energy and excitement that b8ta naturally conveys. To achieve this, we'll conduct the interviews first and then edit the narration to music. With that we create an animatic, or an edit with text placeholders calling out shot set the desired duration. This will generate our shot list and allow precise capturing of the footage. 
Within the budget we have a half day to capture all interviews and broll of the makers then one full day of broll capture with myself and a lighting tech in and around a store. For this we're right at 12k. If we need to get right to 10k, we'd need to get cheaper music and I'd need to do the color grade and sound in house. It'll still be good but I prefer to bring in specialists for this as they can be nuanced. And I'd also have to lose the lighting tech and just get a PA which means I'll move a lil slower and won't be able to capture as many shots.
Treatment · Movement · $15k 
This is different than what you asked for but maybe more of what you need for social and outdoor. A :60 text-driven commercial, not a narration-driven brand video. We'll still capture the interviews and broll beautifully for social but we don't spend as much time on them and don't have them drive our story. Instead we shoot a stunning commercial of the space, employees, and the products. Simple text on screen will drive the narrative and make the key points. Sample text:
And an expert on products that will benefit your life.
Or his. (dog at dog treat machine)
Find out for yourself. Visit a store.
This piece will move with the same fast energy that we've already detailed, but I want to play with more interesting ways of showing the products. Including some suspension ideas where we lift the products from the base—with a fishing line that we'll edit out later—and move around it so it looks like it's floating. This coupled speed effects where we move from fast to slow speeds can create some real powerful scenes.
On this project, rather than just one assistant, I'll bring on a dedicated camera operator, and a stylist to ensure we capture at the highest quality and get the most out of the broll day. For the interviews, I'll do those solo with my kit and we'll move it to one full day so we can also capture broll for the social pieces. In post, we have time for a graphics person to make movements of the text feel just right and we also have a professional color grade and sound mix, though this will be done remotely.
I've taken this to $15k to get what I think we need but can get it to $10k if we need to. 
· $450 · Make-up artist for interview day (it makes a huge difference)
· ~$500-1k · We rent a styled home on AirBnB to shoot products from the store in and do match cuts between them in the store and at the home.
· ~$1k · Animation of logo - want to play with knocking out the color and moving through the b, then having it change from image to white. 
· ~$3k · Onsite color grade and sound session. We can spend a day in a client friendly NYC editing facility and obsess over the color and sound design together to ensure everything is just right at this very critical phase.
For reference. Here's an example of a recent project which had only one day of shooting with one talent (I only shot the CEO, the other footage was provided), art direction and props, and more complex editing which I did at $25k. (See other works at links in header.)
To be efficient in post-production, I will ask that we set 1 hour reviews over the phone at major milestones, with all stakeholders to capture feedback. Three rounds of review are budgeted.
· Jan 28 · Creative/Budget Approved/Deposit
Sent
· Feb 1 · Shoot Interviews
· Feb 6 or 7 · Shoot B-Roll
· Mar 1 · Color/Sound Mix
Project is a work for hire and not a fixed bid. Client can cancel project at any time and will only be liable for expenditures up to point of cancellation. Through production, any overages will be made known to client before they occur and will require written approval. If there are savings that appear, those will be made known as well with options for reallocation. Work commences with receipt of 50% deposit. 25% is due at close of production. Balance is due upon delivery. And the most important term: we must have fun.
I really appreciate the consideration and would love to make something really exceptional here. I hope this proposal can serve as ample fodder for a more focused conversation that hones in a budget and creative to meet your needs. 
Please do let me know if you have any questions. I look forward to continuing the conversation.